This summer WAM has a new exhibit: All in Time by Beth Lipman. The exhibit opens on June 25 with a fun and FREE event from 11 a.m. to 3 p.m.
"Lipman's work has been described as ethereal, substantial, captivating, and calming. Her exhibit includes her work titled Living History, which animates the museum's vast lobby, measuring an epic 14 feet by 8 feet by 10 feet."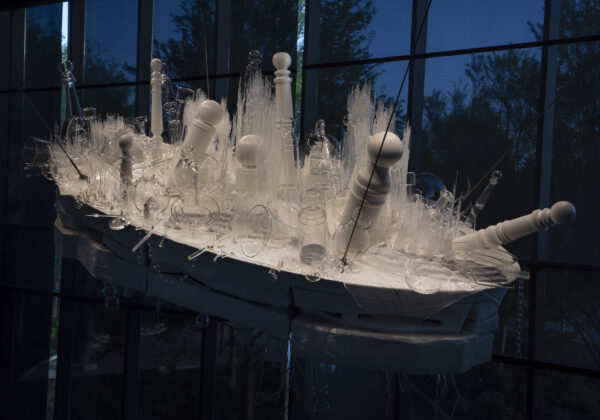 The exhibit opening will have a day full of activities including food trucks, live music, crafts, and information about Lipman's exhibit.
Rooted Connections
11 am to 3 pm
Become head over Flint Hills in love with the impressive new hanging sculpture gracing the WAM foyer, Living History by Beth Lipman. Learn more about the specific grasses Lipman chose to feature in this massive masterpiece. Staff from Great Plains Nature Center will be onsite to highlight amazing prairie grasses. Check out the hands-on artifacts and get an up-close look at critters that call Kansas home.
Food Trucks and Bluegrass
Noon to 2 pm
Enjoy food truck fare and live music by Pop and the Boys. These local, accordion-tinged legends will get you toe-tappin' and knee-slappin' to their jammin' tunes!
Family Artmaking: Rock, Paper, Scissors
11 am to 3 pm
Who will win? Everyone's a winner when you join us in the Art Garden and all around WAM for fun and engaging family activities. What will be your favorite? Rock? Paper? Or Scissors?
Docent Dialogues
1 to 3 pm
Deepen your enjoyment and learning about the new 3-ton hanging sculpture and exhibition from artist Beth Lipman. WAM Docents will be present to answer questions and share their knowledge and insights. Look for them with the "Ask Me" buttons. Discover what's new with the large-scale and iconic sculpture Living History, floating above the Boeing Foyer. Continue into the galleries and experience more of Lipman's astounding work with the companion exhibition Beth Lipman: All in Time.
Lipman Film Montage
2 pm
Enjoy the screening of films made about artist Beth Lipman. She spoke to patrons in fall 2021 about her plans for Living History, so dive into the background on this newest addition to WAM. Watch film recordings with and about Lipman by PBS, Milwaukee Art Museum, and others.
Date: June 25, 2022
Time: 11 a.m. to 3 p.m.
Location: Wichita Art Museum
Cost: FREE
For more info: Check out the event on the WAM website
Related Posts: