Every single budgeting/how-to-save-money article you read begins with something like "Make coffee at home." Right? But here's the thing: coffee from coffee shops is so good!
And we love our Wichita coffee shops with their amazing beverages and 17 different ways you can order your caffeine. But like all budget-minded coffee lovers, we realize it's a treat. Something to be enjoyed occasionally. It comes down to being able to pay the bills or maybe save up for a family vacation. To save money, we really do need to make the majority of our coffee at home.
But that doesn't mean we have to settle for bad coffee!
So what can you do if you really need to make coffee at home, but you love great coffee? The truth is, you can be a coffee snob and still make coffee at home to save money. I speak from experience.
There are several levels to this dedication to coffee. I live with a home roaster. He uses the Behmoor Drum Roaster to roast his own green beans, which he gets at a bargain from the Green Coffee Buying Club. This takes a lot more money up front and a lot of dedication. He also has a top-of-the-line expensive grinder and an SCA certified home coffee maker. (Every birthday and holiday gift we give him is coffee-related, which is the only way we can have such nice coffee things.)
But because coffee-making is a big hobby in this house, we've purchased lots of less-expensive doo-dads and contraptions over the years, and have found some that we really like.
What follows are some of the things we own to make great coffee at home, and they are surprisingly affordable!
Really Good Coffee Beans
Do yourself a favor and pick up a bag of beans from the Fresh Roast Coffee Company some Saturday morning at the Ffarquhar in Wichita. These aren't cheap, but they are the next best thing to roasting your own. And they aren't the most expensive beans either. Half a pound would make a really nice gift for any coffee lover. This is the best coffee I've had in Wichita – or anywhere else, really.
Another place to buy beans is from a coffee shop you love. Again, these are not the absolute cheapest option, but you're looking for a great cup of coffee "on the cheap" so you need to start with great beans. If you're already drinking – and loving – the beans your favorite coffee shop uses, then it stands to reason you'll like the beans they sell.
My third choice is to buy beans from a store. This can be really confusing – there are so many different types and price ranges. Here are my favorite three budget-friendly store-bought coffee beans. Are you ready? You might not believe me, but I've tried a lot of different beans. Here are the kinds we buy when we're out of the home-roasted stuff:
1. Aldi's store brand beans
2. Dillons store-brand beans
3. Sam's Club Pablo's Pride.
Of the three, the beans we buy most often when our home-roasted supply is running low are Pablo's Pride Gourmet Coffee, whole bean from Sam's Club. It's currently $4.99 per pound, and it's pretty awesome.
Tip: Don't buy pre-ground coffee if you want the absolute freshest taste. But your choice of coffee grinder is important to the how good your homemade coffee tastes. Some have even said the grinder is crucial to making a good cup of coffee. See the bottom of this list for grinder recommendations.
Single-Cup Coffee Brewer
What I love most about this single-cup coffee brewer is its simplicity. Seriously, why hasn't someone done this before??? You can choose to make coffee in the provided filter basket or you can use Keurig K-cups (or another brand). The water reservoir can hold up to 14 oz., which just happens to be the exact amount of coffee my favorite mug can hold. All the parts come out for easy cleaning, and the slim profile of this single-cup machine makes it the perfect fit for our small kitchen counter – and for traveling! (We bring our own coffee and coffee-making supplies with us everywhere we go.)
It's also tall enough to fit many travel mugs. An enormous travel cup wouldn't fit, but our 20-ounce mug – which is about 6 3/4″ tall – just fits.
Insulated Travel Mug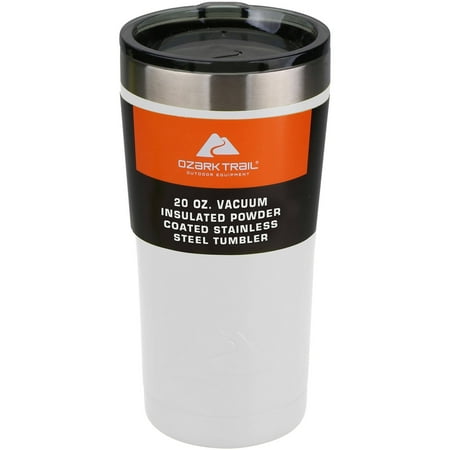 Speaking of travel mugs, this is another bargain you will want to pick up for the coffee-lover in your life. It's also from Walmart, but you might miss it unless you go alllll the way back to the sporting goods department. But don't worry! This double-walled insulated travel mug (that keeps hot drinks hot and cold drinks nice and cold) comes in colors other than cammo. The one we have is a pretty teal blue, but they also have white, tan, robin's egg blue, green, red, stainless, and yes – camouflage.

Pour-Over Coffee Maker
You can get the #1 best-selling Chemex pour-over coffee maker for about half a Benjamin and you'll look like a serious coffee aficionado.
Or you can save that money for good beans and get the less-expensive but very respectable Japanese Hario Coffee Dripper in plastic, ceramic, or borosilicate glass. The #2 size makes up to four cups of coffee. This pour-over maker isn't a fad item; it's for serious coffee drinkers. You'll need the right filters for it.
French Press
Coffee from a French press is, in my opinion, and acquired taste – much like espresso is. However, once you do acquire a taste for it there's no substitute. It's strong and the coffee carries the flavor of the beans right to your taste buds. We've had (and broken) a number of glass French presses. I believe the last one we got was a Bodum similar to this one, which is a bargain.
Burr Coffee Grinder

Our Rancilio may be an awesome coffee grinder, but it isn't inexpensive. …Unless you are buying what we connoisseurs call an "investment piece." (LOL, just kidding. I've never heard coffee people use that term.) The point is, we've had it close to ten years and when the grinders were losing their edge my husband was able to replace them. So from that standpoint, it was well worth the money we paid.
However, this article is all about inexpensive coffee gifts, and the best gift you can give yourself or another coffee lover is the gift of properly ground fresh beans. The "cheap" coffee grinders out there with blades that whirl like a blender and rudely chop up those beans into uneven pieces? That is not the way to treat wonderful, freshly roasted beans.
An affordable alternative is the Krups burr grinder. We have one for trips and it does a good job for the money. It's also a much nicer size – small and compact – for leaving on your counter.
If you or your intended recipient don't have a burr grinder, this is really the first thing you should get. I scoffed when my husband first told me that the type of coffee grinder you get is one of the most important aspects of making good coffee at home. I'm a noted cheapskate, and we already had a blade grinder. I lost that argument and I'm glad I did; the grinder really is the key!
There you have it! Our absolute favorite supplies for making great coffee at home. These coffee-making supplies might be a bargain, but they'll stand up to the taste buds of any true coffee lover.
And several of these have stood the test of time. Remember, whole beans and pour overs weren't always hip and trendy like they are now, but they were always awesome.
Related:
Black Friday Shopping Tips
How to Make the Holidays Special When You Can't Afford Big Gifts
Why I Love My Instant Pot
Seriously Great Local Gifts for Under $20