HP.com has a Warehouse Sale online right now and you can save up to $800 on PCs (laptops, desktops, notebooks, and more). Some restrictions apply, but overall these look like good prices to me. The warehouse sale prices are only valid until 5/1/19.
You can see the circular below. When you click through that, you'll find all of the HP Warehouse deals.
On top of the discounted Warehouse Sale prices, you can also get an exclusive rebate through Savings.com as well as enter into a $500 HP giveaway, hosted by Savings.com
Be sure to enter the $500 HP gift card giveaway. Five winners will win a $100 HP gift card. You can enter that one time before April 30 (whether or not you buy anything in the warehouse sale), and winners will be notified on May 1, 2019.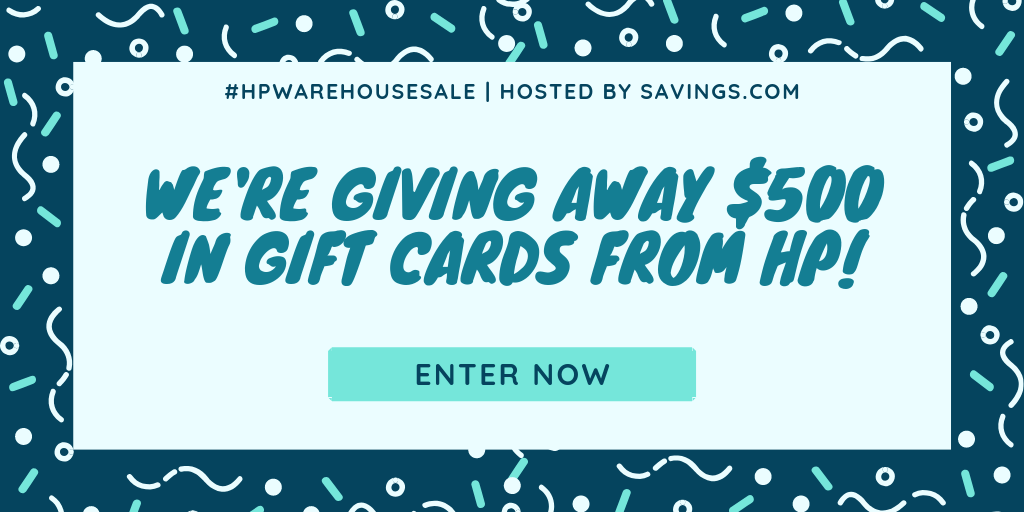 Click the "Shop Now" button in the circular to see all of the various computers in the HP Warehouse Sale. I've been looking at several of these, trying to decide which one would take care of all my graphics requirements! A few of the gaming laptops and desktops also come bundled with Fortnite, if you're into that.
There's also an HP Envy All-in-One desktop that that looks pretty good. You wouldn't need to buy a separate monitor for it, and it has a lot of memory (16 GB), an 8th generation i7 Intel processor, and a 2 TB hard drive. The price I'm seeing on the circular is $1699. With the rebate, it would be more like $1499 – but you don't get back the money from the rebate until later, so budget accordingly.
However, if your price range is a lot lower than that, I saw some laptops for just over $300 and $400 in the warehouse sale! If you just need a second computer in your home, these all look pretty good. The desktop I mentioned above is more one I would want if I'm ready to upgrade from my many cheapo laptops. 🙂